George Papandreou – Chairman of the Foundation's Board – is former Prime Minister of Greece (2009-2011) and currently Member of Parliament with the Panhellenic Socialist Movement/Movement of Change. As an MP, he represents Hellenic Parliament in the Parliamentary Assembly of the Council of Europe, and has lead over the years the work of several Committees in producing recommendations for the deepening of democracy, human rights and the rule of law across its 47 member-states. First elected as MP in 1981, he served in many governmental posts. From 2006 until 2022 George Papandreou was the President of the Socialist International, the largest global political family of which he is Honorary President today. He is a member of Club de Madrid, Aspen Foreign Ministers Forum and since 1998 founded the yearly International Symi Symposium.
Aïchatou Mindaoudou is a Nigerian diplomat and politician, who served as the United Nations' Special Representative for Côte d'Ivoire and Head of the United Nations Operation in Côte d'Ivoire (UNOCI) and in charge of good offices between the various Ivorian parties from 2013 to 2017. From August 2012 to March 2013, she became Joint Special Representative and Acting Head of the Joint United Nations-African Union Mission in Darfur (UNAMID), as well as Acting Joint Chief Mediator, thus becoming the first African woman to lead a peacekeeping mission. Dr. Mindaoudou served in the government of Niger as Minister of Social Development, Promotion of Women, Population and Child Protection from 1994 to 1995; subsequently she was Minister of Foreign Affairs from 1999 to 2000 and again from 2001 to 2010.
André Azoulay is Senior Adviser to King Mohammed VI of Morocco. He previously advised Mohammed's father, King Hassan II. He currently presides over the Anna Lindh Euro-Mediterranean Foundation for the Dialogue Between Cultures, based in Alexandria, Egypt. He is also President of the Executive Committee of the Foundation for the Three Cultures and the Three Religions, based in Seville, Spain, a founding member of the C-100 Davos Forum for the Dialogue of Civilisations and religions, and was formerly Executive Vice-President of BNP Paribas, Paris.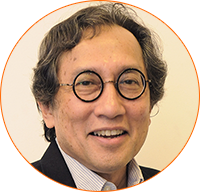 Bilahari Kausikan is Chairman of the Middle East Institute at the National University of Singapore. He is a former Ambassador-at-Large in the Ministry of Foreign Affairs of Singapore. Between 2001 and May 2013, he was first the Second Permanent Secretary and then Permanent Secretary of the Ministry of Foreign Affairs. During his career he has served in a variety of appointments, including as Singapore's Permanent Representative to the United Nations in New York and as Ambassador to the Russian Federation. He studied at Raffles Institution, the University of Singapore and Columbia University in New York.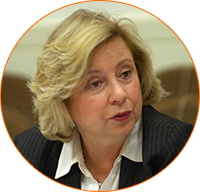 Colette Avital is an Israeli diplomat and politician. Avital served as a member of the Knesset for the Labor Party and One Israel between 1999 and 2009. She began her career at the Ministry of Foreign Affairs (MFA) holding a variety of positions and diplomatic posting around the world. In 2007, she was the first ever woman candidate for the Israeli presidency.  She is also a Board member at Mitvim Institute, the Israeli Institute for Regional Foreign Policies.
Flavio Meroni is Expert in strategic communication and marketing, Flavio Meroni is member of the Boards of Ticino Turismo and of Radiotelevisione Svizzera Italiana. He is also a member of the Regional Committee of Le Mouvement Europeen Suisse. Diplomat and sinologist, Meroni served for 15 years in the Swiss Embassies in China, United Nations in Geneva, Iran, Turkey and Rome before becoming Director General of AAPI (Association of Italian Advertising Companies), President of IFI (International Exhibitions Iniziatives), WAYCOMM/WAYMEDIA and Telema International.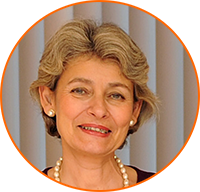 Irina Bokova
was the Director-General of UNESCO for two terms from 2009 to 2017. She was the first woman to lead the organisation. She began her career at the United Nations Department of the Ministry of Foreign Affairs of Bulgaria. She was elected twice Member of Parliament and served as First Deputy Minister of Foreign Affairs and Government's first Secretary for European affairs. Bokova was Ambassador of Bulgaria to France, Monaco and UNESCO, and Personal Representative of the President of the Republic of Bulgaria to the Organisation Internationale de la Francophonie. Currently, she is a member of the board of the Ban Ki Moon Centre for Global Citizens, member of the Concordia Leadership Council, Global Champion of the UN Education Cannot Wait Fund, among other activities.
Iyad Twal was born in Amman, Jordan, and is a catholic priest in the Latin Patriarchate of Jerusalem. He has a BA in Philosophy and a BA in Theology. In 2009 he completed his MA in Epistemology and in 2011 he got his Ph.D. in Political Philosophy in Italy. He has served as a pastor in many parishes, and during his service he was the headmaster of the local schools, until 2016 when he became the General Director of the Latin Patriarchate Schools. From 2019 to 2020 he was Chairman of the Religious Studies Department and Humanities in Bethlehem University. In August 2020 he was elected Executive Vice President of Bethlehem
University.
Lucio Caracciolo is the editor-in-chief of the Italian Geopolitical Review Limes. He regularly writes columns for the Italian newspaper la Repubblica. He publishes articles in various journals, in Italy and abroad. He teaches Strategy at the Università di Studi Internazionali in Rome. Among his publications, "Alba di Guerra Fredda" ("Cold War Dawn") Rome, 1986; "La Democrazia in Europa" ("Democracy in Europe" Rome, 1991; "Euro no, non morire per Maastricht" ("Euro no, don't die for Maastricht") Rome, 1996; "America vs. America" Rome, 2010; "La pace è finita" ("The End of Peace") Milan, 2022.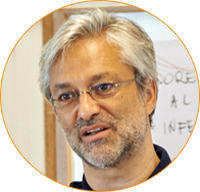 Maurizio Travaglini is the founder of Architects of Group Genius, a consulting practice focused on innovation, change and transformation. He has conceived, designed, led and facilitated over three hundred projects on five continents, for some of the most admired organizations in the world. He has also developed breakthrough programs on Leadership, Innovation and Design Thinking for Harvard Business School, Harvard University Graduate School of Design, École des Ponts Business School.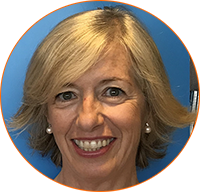 Stefania Giannini was appointed UNESCO Assistant Director-General for Education in May 2018, becoming the top UN official in the field. In this position, she provides strategic vision and leadership for UNESCO in coordinating and monitoring the implementation of the Education 2030 Agenda, encapsulated in Sustainable Development Goal 4. With an academic background in the Humanities, Ms Giannini has served as Rector of the University for Foreigners of Perugia (2004 – 2012), being one of the first and youngest women to hold this position in Italy. As Senator of the Republic of Italy (2013 – 2018) and Minister of Education, Universities and Research (2014 – 2016), she developed and implemented a structural reform of the Italian education system, centred on social inclusion and cultural awareness. She has also been closely involved in an advisory capacity with the European Commissioner for Research and Innovation.